5 Day Faith + Fitness Jumpstart Challenge
Join me in the 5 Day Faith + Fitness Jumpstart Challenge and get yourself out of a slump and back into getting healthier through being fit for God's glory!
If you know me, you know that keeping the body my soul lives in fit and healthy is very important. There is no way I could do all that I do if I didn't take care of myself.
For years, one of the first things I do to get my day 'on' is to workout at home with a video. This isn't anything new with me. I started working out back when my oldest was about two with Stormie Omartian's workout video.
I am really excited to share the 5 Day Faith + Fitness Jumpstart Challenge with Kristen Ekiss. Like I am really really excited!
Why A Fitness Jumpstart is Important
Are you inconsistent about keeping fit and working out?
That was me when we first got married. I was newly married and young. I didn't have to worry about gaining weight and so fitness wasn't on my radar.
A fitness jumpstart would have really helped me to feel better whenever my 'cycle' showed up!
You are probably a busy mom and have no idea how you'll fit anything extra into your day.
You are tired by mid-morning and into a deep slump by early afternoon. Not to mention how exhausted you are once the supper dishes are done.
That's why joining me in this fitness jumpstart is so important.
Become a Fit-Mom with Me!
Moms are joining this free program at just about any age and at any fitness level. Here is Kristen teaching the online class with her mom joining her!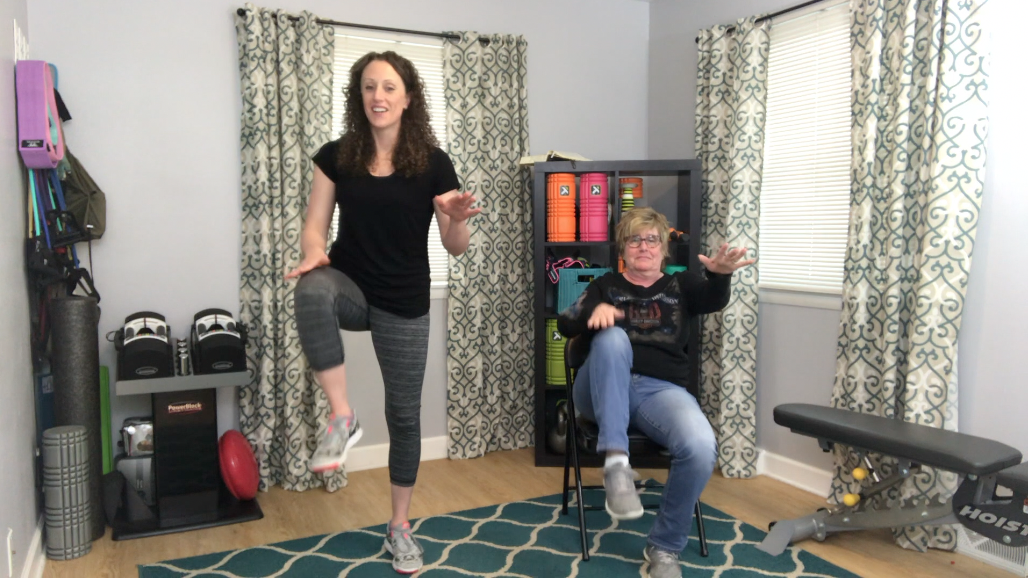 A fitness jumpstart is key to getting healthier at any age. The important thing is finding a workout that works for you.
A wellness workout will work wonders for your body, mind, and spirit. It's so important to get some movement into your day.
We sit too long and physically do too little.
Exercise helps to strengthen your bones and might prevent osteoporosis by using your own body as the machine.
As a mom, you are probably so busy and the thought of getting some exercise added to your day seems impossible. If you could exercise for 10 – 20 minutes would that make it possible for you?
All these reasons are ones that will benefit you in becoming a fit-mom with me as we get up from the kitchen table and off our phones or computers.
Why the 5-Day Faith + Fitness Jumpstart Challenge?
For one thing, the 5 Day Faith + Fitness Jumpstart Challenge is totally FREE!
You have nothing to lose. Just click through the link and sign up and try it out!
This program is an excellent place to start if you are new to exercise or easing yourself back into a fitness routine.
The workouts are only 10 minutes and so doable for all fitness levels.
Kristen always provides alternatives for those who need to sit in a chair while exercising or those who can't keep up.
She also included a bonus 5 day whole foods, low-calorie healthy eating plan complete with menus, recipes, and shopping list.
What could be better than that?!
This jumpstart challenge is to give you a taste of our brand-new online Christian women's weight loss program where we will be adding new workouts every single month. Check out Faithful Fitness here.
There is so much value packed into this short fitness jumpstart that will help you get back on track.
Tell Me What's Included in the Fitness Jumpstart
You will love all the perks included in this short fitness jumpstart course.
I have also been doing the other fitness courses that Kristen has created. I always come away energized and cardio-ready for my day!
What's Included:
Important safety and exercise basics!
Free Printable 5-Day Workout Tracker!
Bonus! 5-Day Whole Foods Eating Plan!
Two instructional videos to watch before starting!
5 Devotionals – one for each day!
5 Workouts (10 Minutes)!
And more!
The 5 Day Faith + Fitness Jumpstart Challenge is for ALL fitness levels. Kristen shares alternative ways to do each movement depending on your ability.
Always check with your doctor before starting any workout including this fitness jumpstart. Kristen is not a doctor and neither am I. You are the only one inside your body and keeping fit for God's glory is done with wisdom.
Faithful Finish is so Affordable!
The 5 Day Faith + Fitness Jumpstart is a wonderful way of getting back into the swing of working out.
You'll love this totally FREE program and all it has to offer!
Have you slacked off in keeping your body fit for God's glory? Would you like to join me in the 5 Day Faith + Fitness Jumpstart Challenge?