A Powerful Solution for Weight Loss that Works
Are you a woman who needs a powerful solution for weight loss that works because you struggle to lose those pounds that pack on so easily?
I lost 25 pounds and have kept them off for about 8 years, so why am I excited about sharing this program with you?
Because every winter I pack on about 7 pounds all over again!
Believe me. I don't want those 25 pounds to come back because they make me feel:
Sluggish!
Bloated!
Craving everything sugar!
Like the pounds are ALL in my stomach!
The thing is that if you saw me, I'm relatively slender. Thin people can be unhealthy too!
So . . . whether you are like me and want to maintain a healthy weight . . .
OR whether you sometimes sabotage your supplement regimen with binging on chocolate (like I used to do) or have wanted a solution for weight loss . . . you will be so excited to hear that there is now an amazing Christian Weight loss program!
Does a Solution to Weight Loss Seem Impossible?
I got stuck at a weight that was higher than I ever wanted it to be. I had no scale at the time and it seemed to pack on without my realizing it.
Thing is that I couldn't stop eating chocolate chips when I was stressed. That didn't help.
I knew if something didn't happen fast, I would end up gaining 30 more pounds.
I got a chronic case of hives that covered my whole body and lasted a month. That happened twice.
I even had hives in my mouth and huge clusters covering my whole body.
What I know now is that they were caused by toxins in my body. How could that happen when I was overeating chocolate chips?!
I wish my story had ended with the solution that the  Faithful Finish Lines 2.0 Program is making available for us now!
Sara and Becky from Faithful Finish Lines know how that feels.
They both lost 100 pounds and have kept it off for years.
But let me assure you…
If you want to be at a healthy weight and honor God with the body you have…
If you care less about your clothing size and more about wanting to FEEL better…
And especially if you know you aren't doing all God has called you to do because your weight is holding you back…
You have come to the right place!
Faithful Finish Lines is run by Sara and Becky who have not only lost the weight but kept it off ever since.
Now they are teaching Christian women what they learned so you can find food freedom too.
What If You Could Find A Solution for Your Weight?
If you've gotten to the point that you've got to do something about your weight but are clueless how to do that . . . then you've come to the right place!
Have you tried every diet imaginable and failed at all of them?
Have you gone low carb, low calorie and practically starved yourself?
By this point, you are probably thinking, "Nothing will help! There's no solution!"
You know you have issues that need to be dealt with once and for all . . . but you can't seem to stop these things from happening every day.
Overeating!
Emotional eating!
Binging!
Secret eating!
Going from diet to diet!
Doing great all day then snacking all evening!
Blowing it on the weekends!
Feeling like you have no willpower when it comes to food!
This is NOT about finding yet another diet. You've done that at least 100 times already.
You know that there is a solution out there somewhere.
And that is why I am excited about this amazing new weight loss program.
If it is the solution for me, then it would be amazing for you too!
I am looking forward to making God everything in my life instead of food.
So if you are concerned about your health, you will LOVE this weight loss program because it gives you powerful solutions that draw you closer to Jesus and works.
So, if something HAS GOT to change . . .
What if Faithful Finish Lines 2.0 Membership is the Solution?
The Faithful Finish Lines 2.0 Membership is a program that guides women step by step through lasting weight loss while keeping Christ at the center of the process.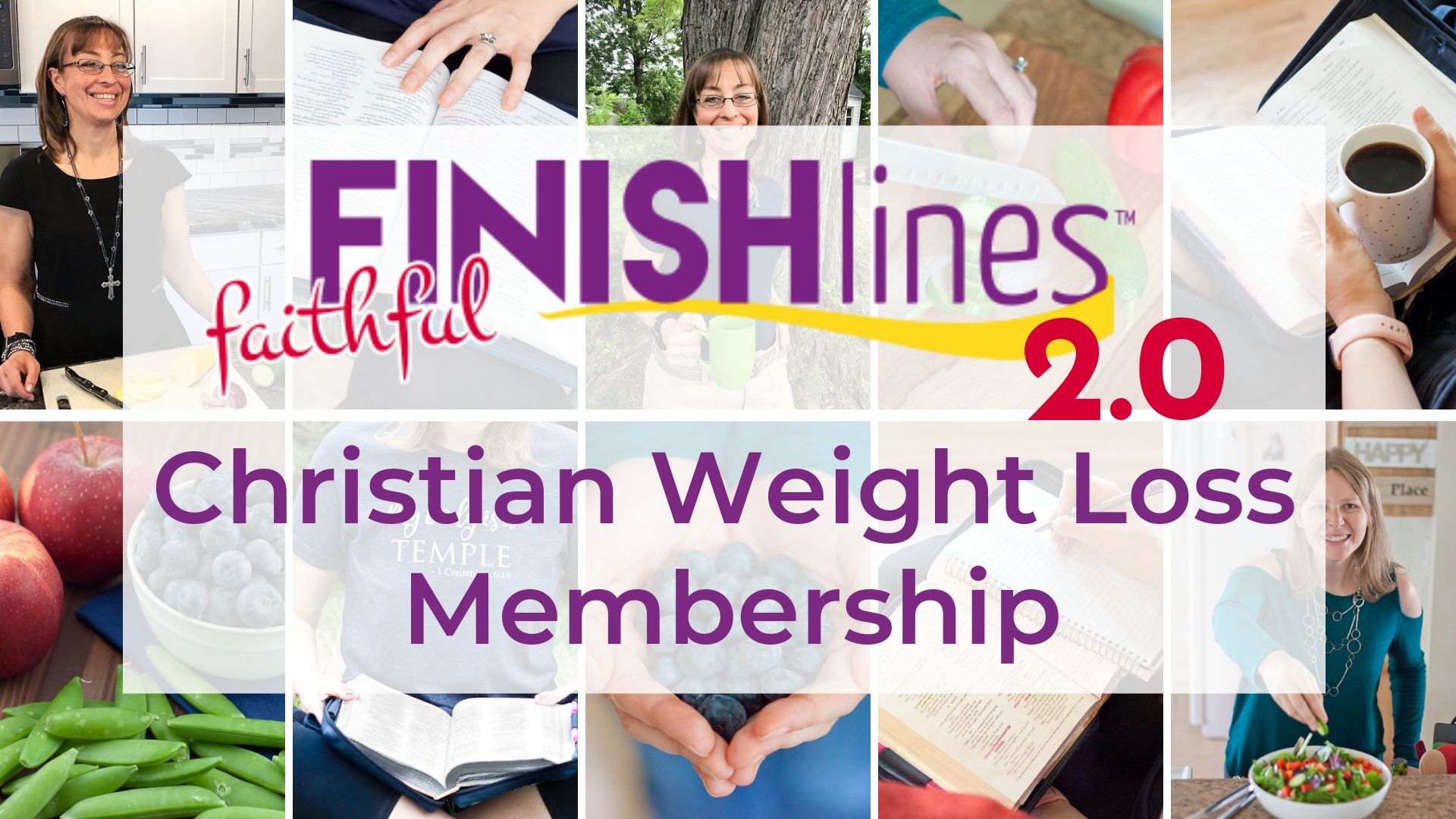 Faithful Finish Lines 2.0 Membership is an interactive, video-based training that leads Christian women one step at a time through the spiritual, physical, and mental aspects of weight loss so that you can get to your goal weight…and stay there for life without fear of regaining.
Whether you find yourself struggling to lose a few pounds since menopause or your weight has been a life-long challenge, Faithful Finish Lines will teach you how to make your food issues a thing of the past.
(Does this sound too good to be true? We promise it isn't!)
How Does Faithful Finish Lines Membership Program Work?
Faithful Finish Lines 2.0 Membership includes weekly lessons and easy-to-follow videos, worksheets, and printable workbooks. All the training is online, contained in the private Faithful Finish Lines Membership only site so that you can use it in the comfort and privacy of your own home.
Faithful Finish Lines 2.0 Membership also includes interactive components like a private members-only Facebook group and weekly live weight loss coaching videos where Becky and Sara answer members specific questions to ensure you have confidence to take the exact steps to get to your goal weight.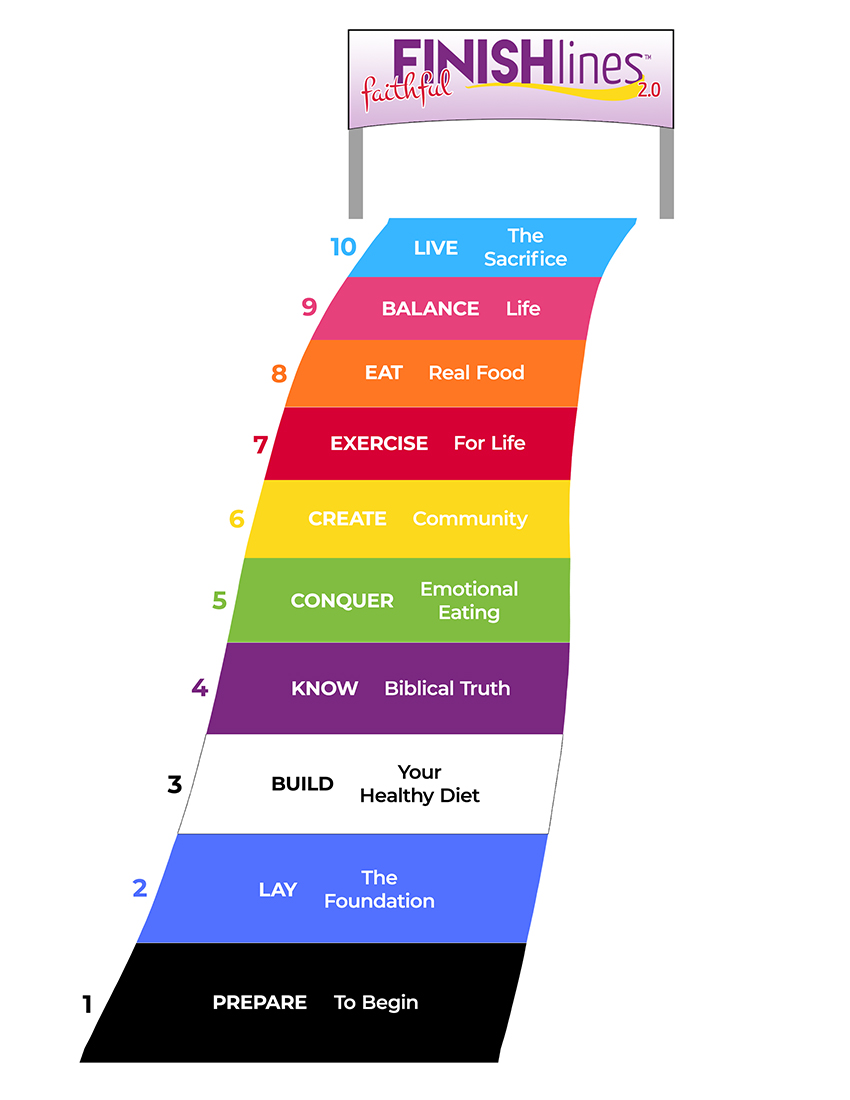 Faithful Finish Lines 2.0 is a membership + online course combined for one low price. The program has ten clearly defined stages that walk you through the exact process of how to get to your goal weight and stay there.
While we expect each stage to take you about a month, the program is self-guided so you can go at the pace that works for your schedule and busy life.
Who is the Faithful Finish Lines Program for?
It's for women like YOU and ME!
Whether you need to lose a few pounds or several hundred, Faithful Finish Lines will teach you how to get to your goal weight and stay there.
Faithful Finish Lines is led by Becky and Sara who have each been maintaining a 100-pound weight loss for many years.
Becky and Sara have discovered the freedom from food and weight issues that only God can provide. They have a heart for sharing this freedom so other women can experience it, too.